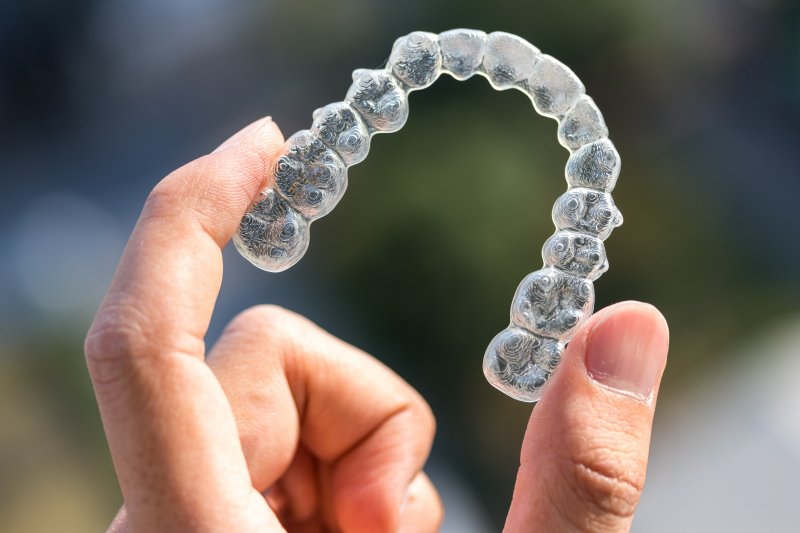 Invisalign is a popular orthodontic treatment for many reasons. One of the most significant advantages is that the clear aligners are virtually invisible, allowing you to discreetly straighten your teeth. You no longer have to rely on unsightly metal wires and brackets to get the properly aligned smile you've always wanted. However, there are several advantages to this treatment that stretch far beyond appearance. Read on to learn more about the benefits of Invisalign in Dallas!
No Dietary Restrictions
Unlike traditional metal braces, there are no dietary restrictions while undergoing Invisalign treatment. All you have to do is remove your clear aligners before eating or drinking anything that's not water. Before putting the plastic trays back in your mouth, you need to brush and floss your teeth to ensure they're clean. As long as you continue to meet the recommended wear time of 20-22 hours a day, you shouldn't have to change your diet at all for Invisalign in Dallas.
Easy Maintenance
Another significant benefit of removable plastic trays is easier maintenance. You don't need to purchase special products or incorporate complex steps into your oral hygiene routine! Simply take your Invisalign aligners out and clean your smile as usual. By doing so, you'll be less likely to develop oral health issues during treatment.
More Comfortable Treatment
Metal wires and brackets are known for irritating the soft tissues in the mouth. Fortunately, Invisalign in Dallas is made of a smooth plastic design that will simply glide past your cheeks, lips, and tongue. While the clear aligners may cause some discomfort when advancing to a new set, countless studies show that most patients report less soreness with this option than with traditional metal braces.
Faster Results
In general, Invisalign in Dallas helps patients achieve results much faster than with traditional metal braces. The latter has an average treatment time of one to three years. Meanwhile, the clear aligners can give most people a straighter smile in 12 months or less!
No Interruptions to Everyday Life
Invisalign is designed to blend into your current lifestyle rather than distract you from it. With traditional metal braces, patients need to adjust their diet, oral hygiene habits, and appearance. You don't have to worry about any of that if you opt for the clear aligners! They allow you to continue your routine lifestyle as normal.
As you can see, there are many incredible advantages to Invisalign in Dallas. If you'd like to find out if it's the right option for you, schedule a consultation with your dentist today. Your dream smile is only a call away!
About the Practice
At Soleil Dental, we provide high-quality and personalized dental care for patients of all ages. Our team offers comprehensive services the entire family can enjoy. If you'd like to straighten your teeth with Invisalign in Dallas, don't hesitate to reach out. You can schedule a consultation via our website or call (214) 304-2112.