Invisalign – Dallas, TX
A Straighter Smile Without the Metal
If you never got traditional metal braces when you were younger, you may think it's too late to get the straight smile you've always wanted. Well, that's far from true! Invisalign is a modern solution that'll allow you to discreetly and comfortably achieve your desired results without the awkwardness of metal wires and brackets. It'll move your teeth in a way that's virtually unnoticeable! To learn more about this orthodontic treatment, continue reading or schedule a consultation with our team today.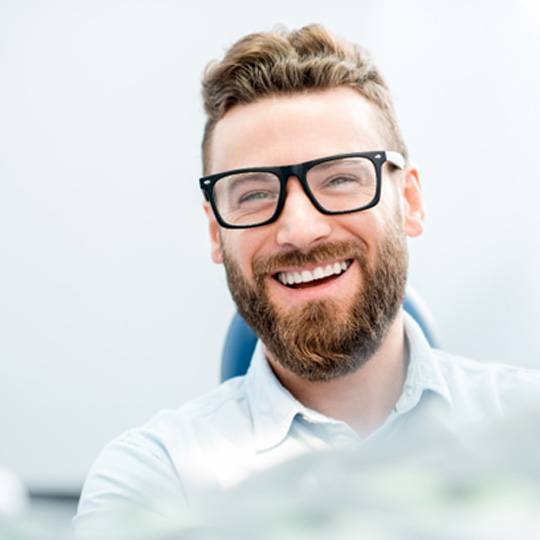 How Invisalign Works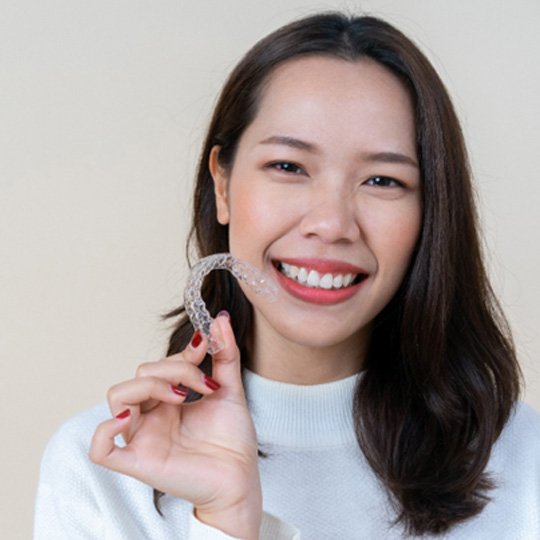 Invisalign in Dallas uses a series of clear aligners to gradually shift your teeth into a straighter position. Each set is worn for a predetermined amount of time, which is usually two weeks. A portion of your smile is moved into proper alignment until the entire thing is straight. Even though you won't have to visit your dentist as often as you would with traditional braces, you will still need to see them every six weeks or so to pick up your new trays and ensure everything is going according to plan.
Indications for Invisalign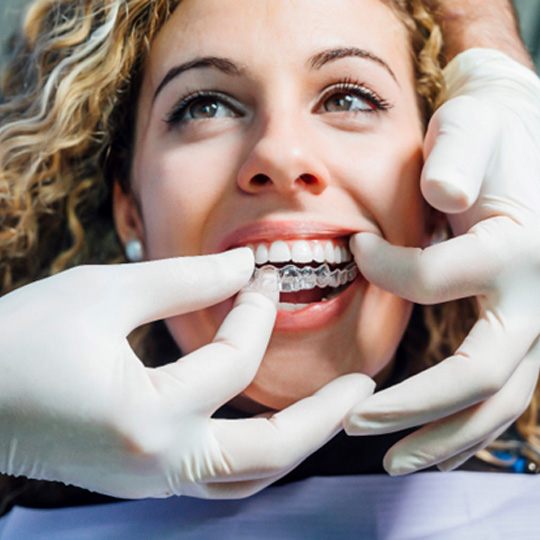 Believe it or not, Invisalign can be used to treat multiple orthodontic issues. Some of those include:
Crowded Teeth
Do you feel like you have too many teeth in your mouth? If so, you may benefit from Invisalign in Dallas. Crowding needs to be addressed as soon as possible because it can increase your risk of tooth decay and gum disease. Fortunately, the clear aligners can bring your teeth into a properly aligned position.
Gaps Between Teeth
Having spaces in your smile isn't just unsightly – they can put you at risk of cavities and gum infections. That's mainly because food can more easily get trapped in these gaps, causing decay and bad breath. With Invisalign, your teeth can be pushed back into a healthier and more aligned position.
Bite Alignment
A misaligned bite can place unnecessary pressure on your temporomandibular joint, causing problems like TMJ disorder and teeth grinding and clenching. If you have an underbite, overbite, or crossbite, Invisalign can correct these issues.
The Benefits of Invisalign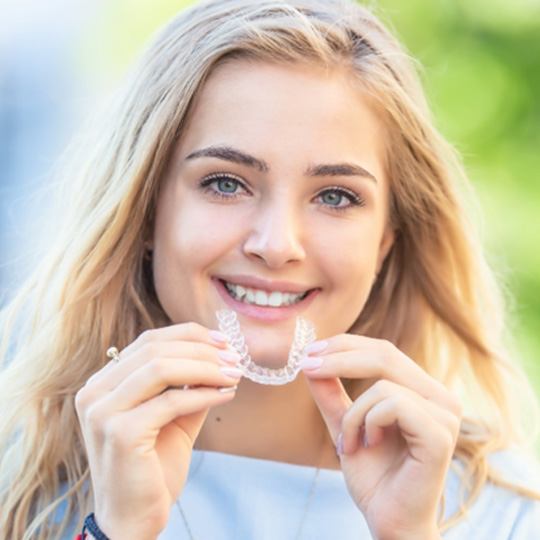 Choosing to improve your smile with Invisalign in Dallas will allow you to reap several incredible benefits, such as:
Increased comfort – Invisalign is created with a smooth plastic design, which won't irritate the gum tissue like metal braces can.
Faster results – Traditional braces take about two to three years to help you achieve your desired results. Meanwhile, Invisalign can be completed in just 12 to 18 months.
Discreetness – Since the clear aligners are virtually invisible, no one will even know you're undergoing orthodontic treatment.
Understanding the Cost of Invisalign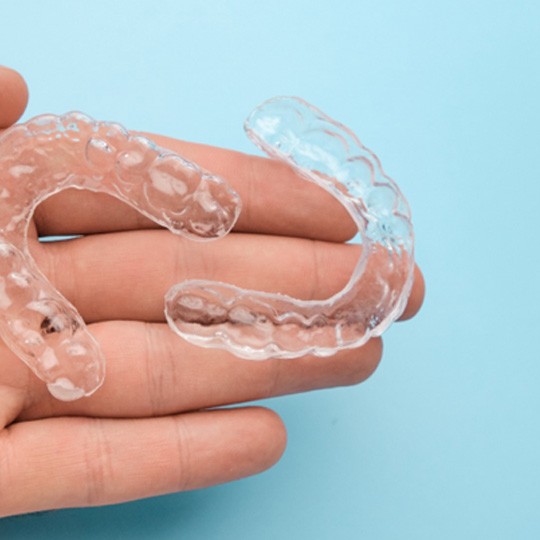 Every case is unique, which means it's impossible to know how much your treatment will cost until you come in for an exam. During your consultation, we'll explain which factors will influence the overall price tag. Rest assured – our team will thoroughly go over the pricing information to ensure you know what to expect every step of the way. If you'd like to learn more about what to expect before committing to Invisalign, simply keep reading!
Factors that Affect the Cost of Invisalign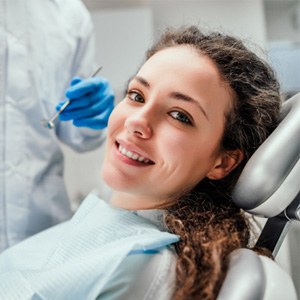 Unfortunately, there is no one-size-fits-all answer when it comes to Invisalign because the cost depends on several unique factors. It will vary from person to person based on the following components:
Number of aligners needed. Most patients have to straighten both their upper and lower arches. However, there are instances where only the top or bottom teeth need to be addressed. If that's the case for you, you can expect your overall cost to be lower.
Severity of orthodontic case. The complexity of your dental misalignment can drive up the cost. If you have more extreme issues, your treatment will likely be a bit pricier.
Length of treatment. A longer treatment time means having more sets of aligners and a higher cost.
Invisalign vs. Smile Direct Club™: Which Costs More?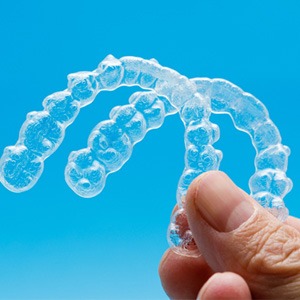 Patients wanting a "quick fix" may explore do-it-yourself clear aligner options like Smile Direct Club™. Although the lower price point is tempting, it's important to remember that you get what you pay for! Smile Direct Club™ typically comes with little-to-no oversight from a dental professional, leaving more room for errors to be made. Eventually, you may end up with complications that will need to be addressed by a professional anyway.
By choosing Invisalign, you can have the trusted oversight of our team every step of the way. Plus, the clear aligners are professionally made using highly accurate impressions, resulting in a more successful overall treatment process. While it's a bit more costly than DIY aligners, it's worth every penny for a smooth-sailing orthodontic journey.
Does Dental Insurance Cover Invisalign?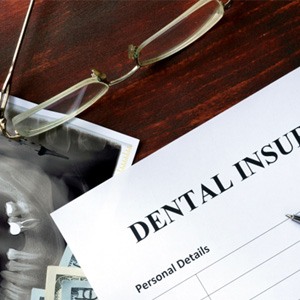 You'll be happy to know that most dental insurance plans offer coverage for orthodontic treatment! However, every policy is unique, which means you should reach out to your provider to see what your benefits entail. If needed, our team will gladly help you navigate this step in the process. We're in-network with some of the most popular plans!
Options for Making Invisalign Affordable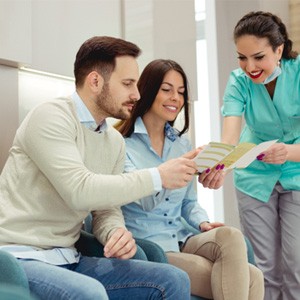 We understand that not everyone has dental insurance. Because of that, we offer an in-house dental savings plan to help you avoid breaking the bank. For one low annual fee, you can get basic preventive care and enjoy sizeable discounts on multiple other treatments. With our help, you don't have to worry about going outside of your budget for Invisalign!
Invisalign FAQs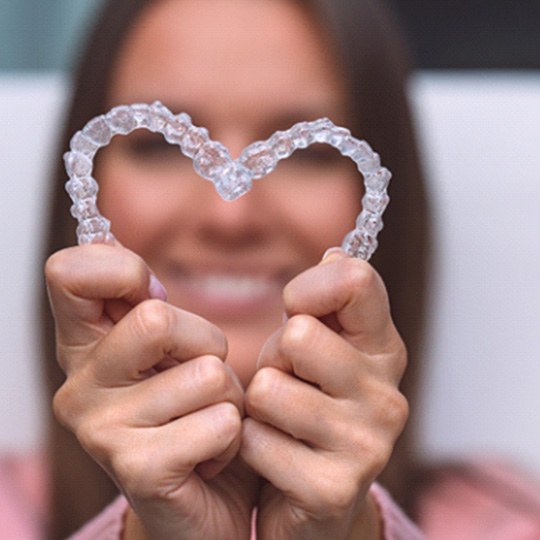 Invisalign aligners have been around for a while, but they're still a relative newcomer in the world of orthodontics. As a result, you may not know as much about them as you would, say, wire and bracket braces.
Invisalign aligners are similar to traditional braces but offer a lot of other benefits that you may be interested in. If you're interested in learning more, here are some examples of questions we often get about clear aligner treatment.
Does Invisalign Hurt?
As with any kind of orthodontic treatment, there's going to be an uncomfortable adjustment period when you first get your aligners. However, this should fade after a few weeks of wearing them.
Long term, the low-profile design of Invisalign aligners makes them very comfortable, especially when compared to traditional braces. For most of the time that you'll be wearing your aligners, the only time you should feel any discomfort is when switching out one set of aligners for another.
In these in-between periods, you should be able to get by with over-the-counter pain medication until the discomfort fades.
What Does Invisalign Look Like?
Invisalign aligners are startlingly thin and made of transparent plastic. Once they're on your teeth, it's incredibly hard to tell that they're there.
That said, if you don't take care of your clear aligners, they may start to become discolored over time. This is especially true if you make a habit of eating or drinking with your aligners in. If you want your Invisalign trays to be as subtle as possible, be sure to take them off before eating.
Can Invisalign Fix an Overbite?
Usually, when you have any level of misalignment, you're usually also dealing with either an overbite or an underbite. When your Invisalign aligner moves the teeth, it also subtly changes the alignment of your bite—in this way, these aligners can be used to slightly alter the way that your teeth fit together.
However, this approach is somewhat limited compared to what traditional braces are capable of. We'll talk to you about whether Invisalign would be able to address the problems you're facing once we meet you in person.
Can You Get Invisalign After Braces?
It's also worth noting that a hybrid approach may be possible which entails wearing traditional braces and then switching to Invisalign. This is especially popular in cases where you have severe bite misalignment but prefer the long-term aesthetics of Invisalign.
There are also some instances where a patient's teeth come out of alignment after having worn braces when they were younger. This is usually true if you don't like to wear your retainer. In these cases, Invisalign may be perfect for correcting your misalignment without compromising your appearance.