Dentist Reviews – Dallas, TX
Hear What Our Patients Are Saying
Do you prefer a dentist who offers comprehensive care to the whole family? One of the best ways to determine if Soleil Dental is right for you is to read the reviews from our patients! Below are links you can click on to hear what others are saying about their experiences and why they keep coming back!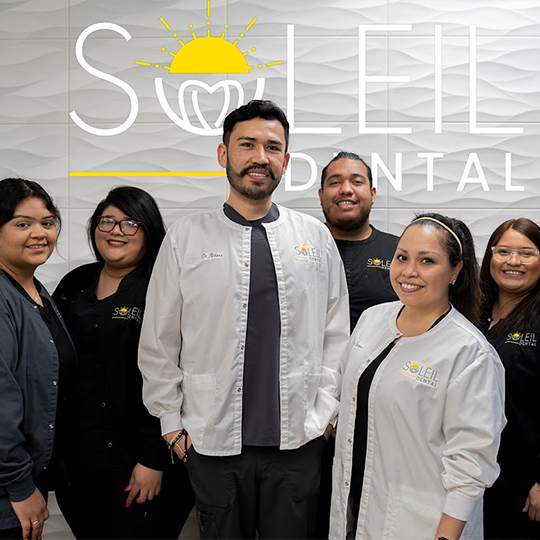 Leave a Review on Google
Once you experience our top-notch dental care for yourself, we invite you to leave a review on Google! This not only gives us insight into ways we can improve our services and techniques, but it also helps other prospective patients find us!
Dr. Vazquez is kind and knowledgeable. She took the time to listen to me about my dental anxiety experience from past offices and made sure I was comfortable throughout the whole check up. She also took the time to thoroughly explain my scans and X-rays in order to be transparent with my treatment plan. That level of detailed care as my first visit surpasses my expectations and I am now a loyal patient to this clinic!
Front desk experience was warm! Greeted quickly by Alex and Star. Alex guided me through all new patient signatures in case I had questions.
I had Miriam as the assistant and she was super sweet and even laughed at my nervous dental jokes. Highly Recommend
- Yesenia Barrientos
Soleil Dental is amazing!! Best front office staff ever Laura and Alex are so welcoming. Laura is so friendly, professional and informative! Miriam did an exceptional job she made me feel so comfortable in the chair and explained everything and answered all my questions. Dr.Vazquez is awesome she is so informative an is Great at what she does. By far the best dental experience ever!! Highly recommend Soleil Dental.
- J Mares
The service at Soleil Dental was phenomenal! I had not been to a dentist in a while due to the pandemic and more so due to my hesitation over dental procedures. From the moment I made the appointment, Alex was attentive and friendly. When I arrived for my appointment, the check in process and the service from Casandra and Dr. Vazquez throughout my time there was simple, easy, clear, and painless! I felt that Dr. Vazquez listened to my concerns and never rushed me during my visit. The facilities are clean, spacious, and they even have a tv mounted on the ceiling for the convenience of patients! I was super pleased with my visit and would highly recommend Dr. Vazquez!
- esmecn
Wow I love Dr. Vasquez she is sooo sweet and so so understanding. She made me feel so much better. I went in crying in pain and came out smiling! I definitely recommend Soleil Dental to anybody looking for a good affordable dentist. The staff is amazing. They make you feel so comfortable.
- Meli Castaneda