Children's Dentistry – Dallas, TX
Meeting Your Whole Family's Dental Needs
It's a great thing to find a dental office that treats children as well as adults. Not only will you be able to enjoy the convenience of being able to bring the entire family to one dental office, but you can be sure your little ones will continue to receive dental care from a team they know and are comfortable with throughout their lives. Ready to schedule an appointment for your little ones to receive children's dentistry in Dallas, TX? Call us today.
Why Choose Soleil Dental for Children's Dentistry?
Bilingual Dentists That Always Listen to Patients
Comfortable, Welcoming Private Practice
Flexible Payment Options Available
Dental Checkups & Teeth Cleanings for Kids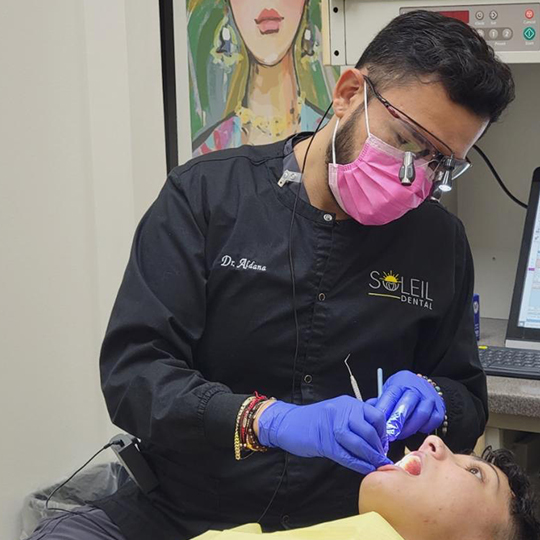 Dr. Vasquez and Dr. Aldana are known for their gentle chairside manner, and that's especially true when it comes to treating children. We'll help your little one get used to our dental office so that they can stay as happy and calm as possible for their treatment. During each visit, we'll take the time to teach you and your child the best at-home habits for taking care of the teeth and gums, and we'll keep you informed of how their oral development is progressing.
Dental Sealants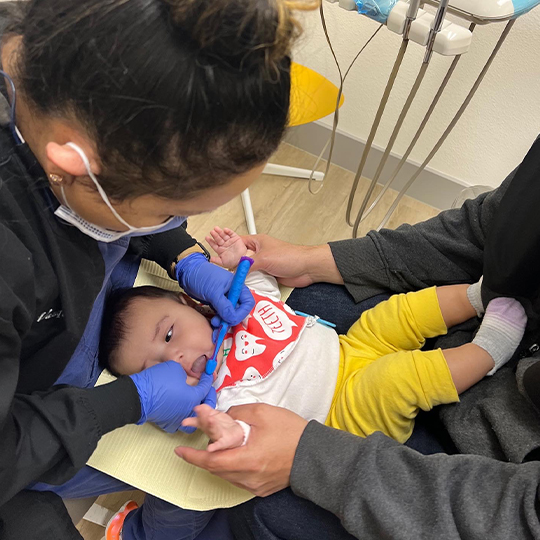 Tooth decay is the most common chronic illness among children for one simple reason: children aren't born knowing how to brush properly, and as such, they have a harder time keeping their teeth clean. With dental sealants, we can keep your little one's smile a bit safer while they're still getting the hang of proper hygiene. We normally apply sealants to the molars, as they tend to be more vulnerable to harmful bacteria than other teeth.
Fluoride Treatments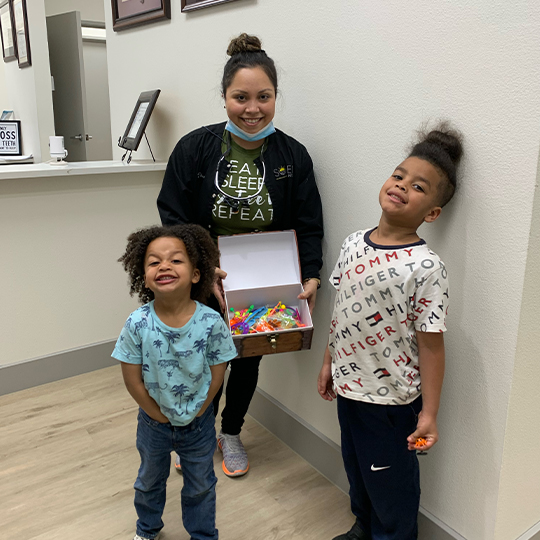 Fluoride is an important mineral for smiles of all ages, but it's especially important for children to have a healthy amount of exposure to it while their teeth are developing. It helps ensure that their teeth are strong and resistant to tooth decay as they grow older. Once we've finished cleaning your child's teeth, we can perform a quick fluoride treatment, which will take a few minutes and can be completed without any discomfort; this simple step makes it less likely that your little one will have any decay or cavities to worry about at their next visit.
Tooth-Colored Fillings
If your child gets a cavity, you'll want to have it filled as soon as possible so that they can avoid long-term pain and damage. We usually recommend tooth-colored fillings instead of more traditional metal fillings. This is partly for the aesthetic advantages, of course, but it's also because, unlike metal fillings that usually require us to remove small amounts of enamel, tooth-colored fillings can bond directly with the tooth's structure, supporting and strengthening it.
Athletic Mouthguards
Encouraging your child to play the sports that they love is important, but you'll also want to make sure that their precious, irreplaceable smile isn't at risk. At our dental office, we offer athletic mouthguards suitable for football, basketball, and other activities where there's a risk of taking a blow to the face or mouth. Unlike the mass-produced mouthguards you can buy over the counter, the appliances we provide are made with your child's comfort and unique smile in mind.
Pulp Therapy
Infected dental pulp needs to be treated as soon as possible if you don't want the infection to spread beyond the tooth to the rest of your little one's mouth. With pulp therapy, we can either remove the entire dental pulp or just the infected parts of the tissue. Once the process is complete, your child's pain should stop, and the tooth shouldn't be in further danger. We'll only recommend pulp therapy once we've taken the necessary X-rays and determined that it's the best step.