Dental Implants – Dallas, TX
The Next Best Thing To Natural Teeth
Even though your teeth are relatively small, they play a huge role in your life. Missing even just one tooth can have a devastating impact on your self-confidence, health, and quality of life. Fortunately, no matter how many teeth you're missing, our team at Soleil Dental can rebuild your smile from the roots up with dental implants in Dallas! This state-of-the-art tooth loss solution is the next best thing to natural teeth, and we are proud to complete the entire procedure right here in our office. To learn more, give us a call to schedule your consultation!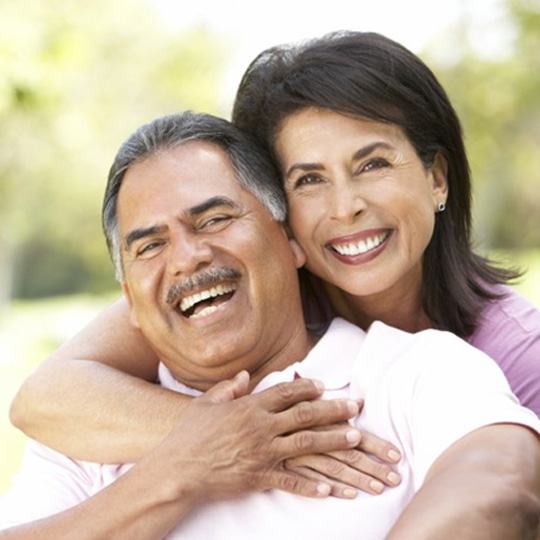 Why Choose Soleil Dental For Dental Implants?
#1 Entire Treatment Completed Under One Roof
#2 Replace Any Number of Missing Teeth for Life
#3 Numerous Options to Make Your Dental Implants Affordable
What Are Dental Implants?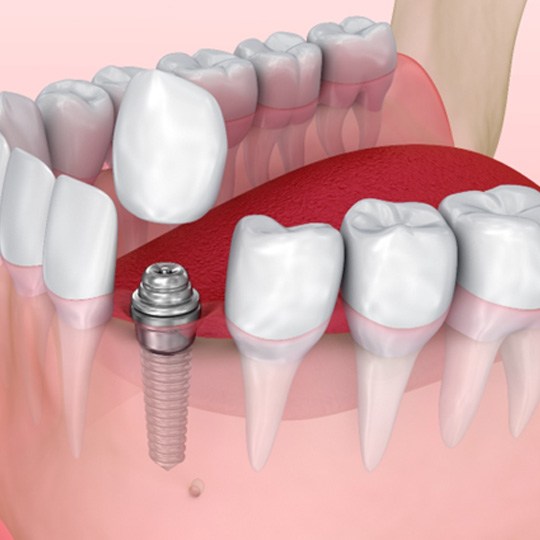 A dental implant is a titanium post that can be placed beneath the gumline directly into the jawbone. There, it will fuse with the bone tissue to create a strong foundation and replace the roots of your missing tooth or teeth. Atop the dental implant is a small connector piece called an abutment, which will secure your custom restoration. Dental implants can support crowns, bridges, and dentures alike to replace any number of missing teeth! In the end, rebuilding your missing teeth from the roots up provides results that look, feel, and function just like natural.
The 4 Step Dental Implant Process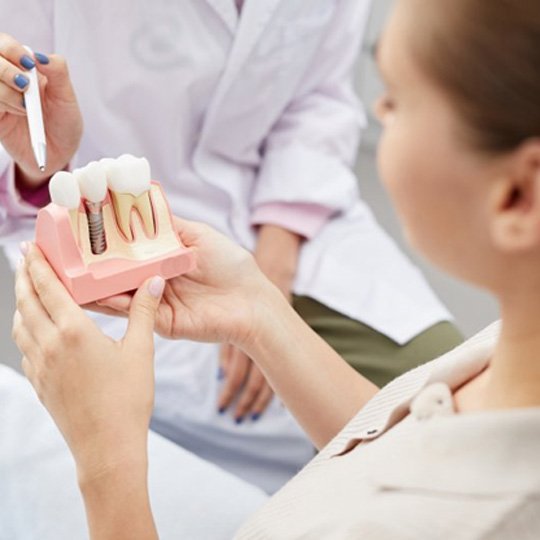 There are four main steps in the process of getting dental implants:
Initial consultation: We'll meet with you to ensure dental implants are a good choice for you and plan out your treatment, including any necessary preliminary procedures.
Dental implant surgery: Your dental implants will be placed via a minor oral surgery that we perform right here in our office.
Osseointegration: Over the next several months, the dental implants will fuse with your jawbone in a process called osseointegration.
Placement of final restoration: You'll return to our office to have your custom crown, bridge, or denture anchored securely in place.
The Benefits of Dental Implants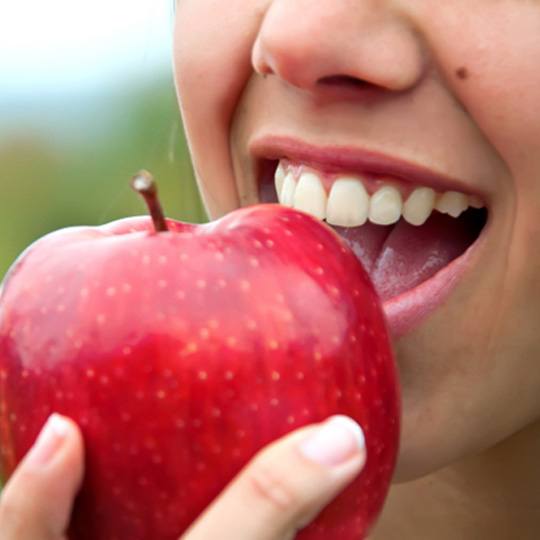 Prevents jawbone deterioration
Will never slip or pop out of place
Easily eat steak, nuts, apples, and more
Seamlessly lifelike appearance
Can last a lifetime with the right care
Who Dental Implants Can Help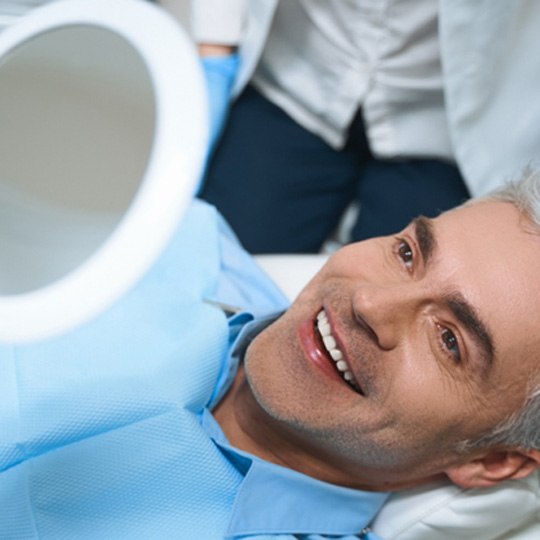 No matter how many teeth you're missing, we can develop a dental implant treatment plan to rebuild your smile. Once we've confirmed you're a good candidate for dental implants, plan out your procedure based on how many teeth you're missing.
Missing Single Tooth
To replace a single tooth, a dental implant will be inserted where the missing tooth used to be. Then, it will be topped with a beautiful, custom-made dental crown. Unlike a traditional bridge, a single-tooth dental implant doesn't require altering any of the surrounding teeth!
Missing Multiple Teeth
Replacing two or three missing teeth in a row calls for an implant bridge. Unlike a traditional bridge, this restoration is mounted on dental implants instead of your natural teeth. This makes it a healthier, more comfortable, and longer-lasting option!
Missing All Teeth
For patients who have lost all their teeth or who are looking for an alternative to their removable dentures, we offer implant dentures. Implant dentures are secured into place via four to six strategically placed dental implants, giving you the confident and stable smile you deserve!
Understanding the Cost of Dental Implants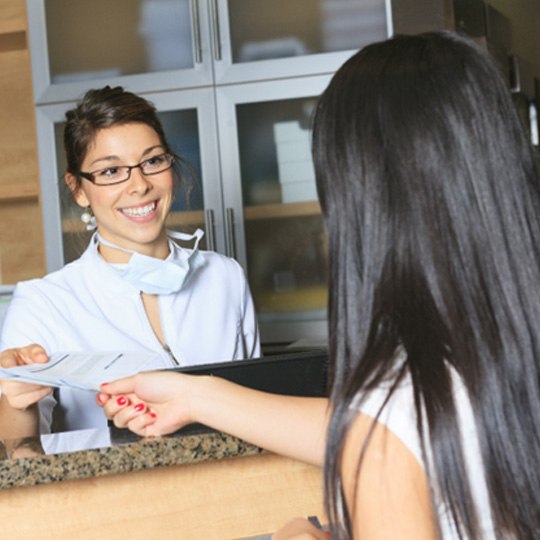 The cost of dental implants in Dallas can vary quite a bit from patient to patient depending on a wide variety of factors. When you visit us for your consultation, we'll consider variables such as how many teeth need to be replaced and if any preliminary procedures are needed to calculate a personalized estimate. Additionally, we'll review your dental insurance coverage, our in-house savings plan, and your flexible financing options to help you discover just how affordable your new smile can be!
Dental Implant FAQs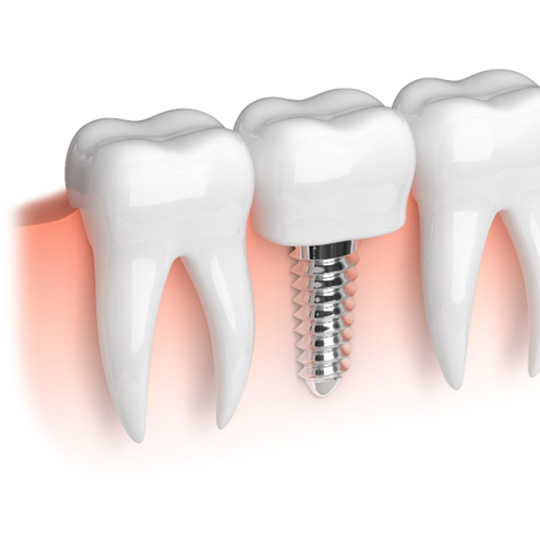 We hope the information on this page gives you a clear idea of what getting dental implants in Dallas will be like. Of course, if you still have questions, we're more than happy to help! The following FAQs cover many of the topics that our patients often ask about when getting dental implants. Check to see if the answers you're looking for are already listed here; if not, please reach out to our office so that one of our team members can assist you.
How Long Do Dental Implants Last?
Traditional dentures and bridges only last about 10 years before they need to be replaced. Dental implants, on the other hand, can stay in your mouth for well over 30 years and might even last a lifetime if they receive proper care. You don't need to do anything special to ensure that your implants last as long as possible; just care for them the same way you would your natural teeth. That means brushing and flossing twice a day at home while visiting the dentist every six months for a checkup and cleaning.
Bear in mind that certain habits can damage your implants, like chewing on ice, smoking, and tearing open packages with your mouth. You need to identify and drop these harmful habits as soon as you can to protect your newly repaired smile.
What Can Cause Dental Implants to Fail?
Dental implant failure is very rare, but it can happen. Peri-implantitis is one of the most common reasons for failure. This is a form of gum disease that specifically occurs around dental implant posts; it can weaken the tissues holding the implants in place, causing them to come loose.
Another factor that can cause you to lose your implants is failed osseointegration. If the posts don't fuse with the jawbone, they won't be able to stay in your mouth. Osseointegration might fail if you put too much pressure on the implant posts during the healing process.
Our team will go over the risk factors for implant failure with you during your initial consultation. We can also give you some recommendations for steps you can take to keep the chances of failure at a minimum, such as practicing good oral hygiene.
Will People Be Able to Tell That I Have Dental Implants?
Dental implants are custom designed to blend right in with the rest of your smile so that most people can't tell that you were ever missing a tooth. The restorations will match the size, shape, and shade of your natural teeth, and the implant posts will be completely hidden under your gums.
Is There Anything I Shouldn't Eat with Dental Implants?
Unlike dentures, which can make eating certain foods very difficult, dental implants don't put limits on your diet. You only need to stick to soft foods while your mouth is recovering after implant surgery. Once you receive your final restoration, you'll be able to eat anything you want. Be careful around hard or sticky foods; they could potentially damage your implants (as well as any remaining teeth).