Dental Implants – Dallas, TX
The Next Best Thing To Natural Teeth
Even though your teeth are relatively small, they play a huge role in your life. Missing even just one tooth can have a devastating impact on your self-confidence, health, and quality of life. Fortunately, no matter how many teeth you're missing, our team at Soleil Dental can rebuild your smile from the roots up with dental implants in Dallas! This state-of-the-art tooth loss solution is the next best thing to natural teeth, and we are proud to complete the entire procedure right here in our office. To learn more, give us a call to schedule your consultation!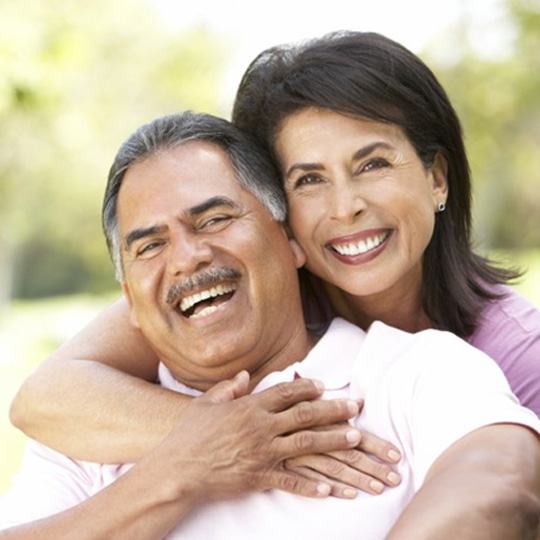 Why Choose Soleil Dental For Dental Implants?
#1 Entire Treatment Completed Under One Roof
#2 Replace Any Number of Missing Teeth for Life
#3 Numerous Options to Make Your Dental Implants Affordable
What Are Dental Implants?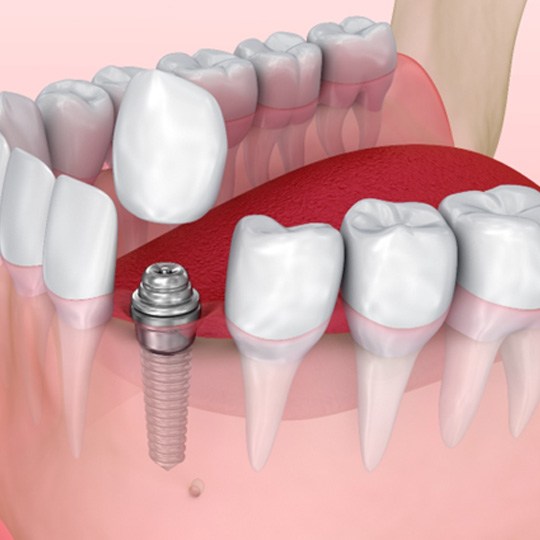 A dental implant is a titanium post that can be placed beneath the gumline directly into the jawbone. There, it will fuse with the bone tissue to create a strong foundation and replace the roots of your missing tooth or teeth. Atop the dental implant is a small connector piece called an abutment, which will secure your custom restoration. Dental implants can support crowns, bridges, and dentures alike to replace any number of missing teeth! In the end, rebuilding your missing teeth from the roots up provides results that look, feel, and function just like natural.
The 4-Step Dental Implant Process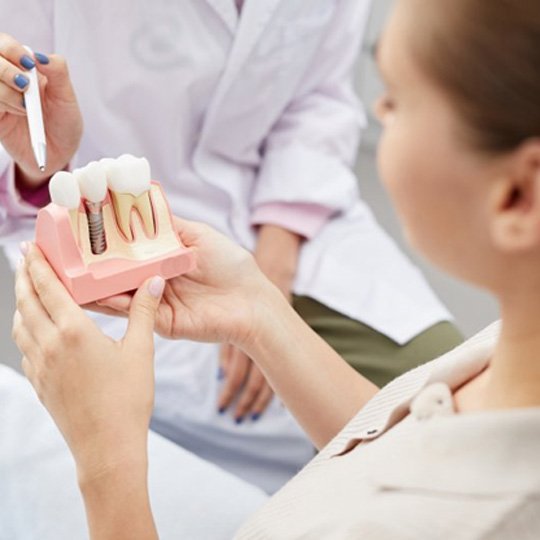 The method for receiving dental implants requires a unique, multi-step process that spans several months—but don't let this deter you! Although they might seem like a major and time-consuming commitment, dental implants are well worth the time and effort invested. Though every patient's treatment plan is different, the process for receiving dental implants in Dallas can generally be broken into four main stages: the consultation, the surgical procedure, the osseointegration process, and the delivery of the final restorations. Keep reading below to learn a little more about what goes into each of these steps.
Initial Dental Implant Consultation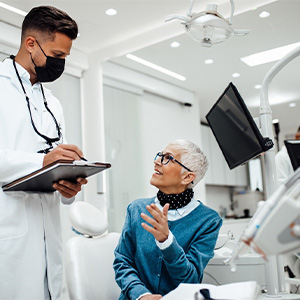 The first step towards reconstructing your smile with dental implants is to attend your consultation; during this visit, our team will closely examine your mouth and facial structures to determine if you might benefit from dental implants. We'll also review your relevant medical history. In some instances, patients may need to undergo preliminary procedures to prepare their mouth for receiving implants. These treatments generally include things like supplemental bone grafting, gum disease therapy, and tooth extractions. Once you've been treated (if applicable) and cleared for implants, we can set things in motion and schedule your implant surgery.
Dental Implant Surgery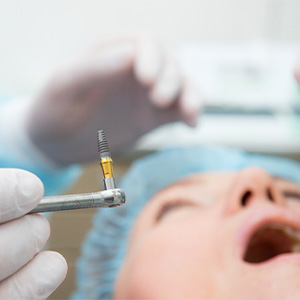 You should be happy to hear that our team can complete the entire dental implant process in-house! The actual implant surgery itself is a fairly straightforward procedure. First your mouth is numbed before small incisions are made in your gum tissue to access your jawbone. Next, the implants are carefully and precisely inserted directly into the bone before the gums are sutured shut. Afterward, they'll place a protective cap over the posts to protect them while they begin healing.
Dental Implant Osseointegration & Abutment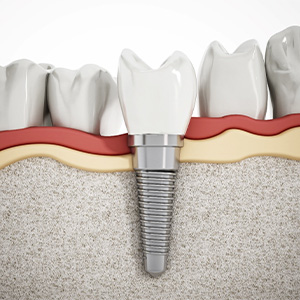 It'll take roughly three to six months for your implants to naturally fuse with your jawbone. This fusion, called osseointegration, is arguably the single-most important stage of the entire dental implant process. You'll be given detailed guidelines to follow to ensure that osseointegration occurs as intended. Simply put, if your implants are unable to successfully meld with your jaw, they'll ultimately fail! But once this stage is complete, you'll need to return for a second, smaller surgery to receive your abutments. These metal connector pieces are placed on top of your implants and allow your restoration, whether it's a crown, bridge, or denture, to sit in the correct position.
Delivery of Dental Implant Restoration(s)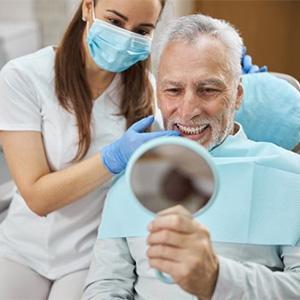 Your replacement teeth will be designed based on digital impressions of your smile, meaning that once they're ready, you can expect them to look and feel exactly like your natural teeth! We'll call you back in to attach them to the abutments on top of the implant posts. We'll also check to make sure that your bite looks and feels normal and make any necessary final adjustments before sending you back out into the world with your newly restored smile.
Benefits of Dental Implants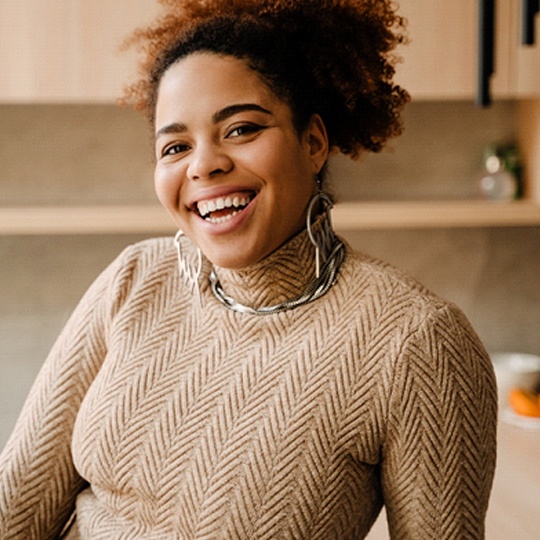 Dental implants are by no means a new solution for replacing teeth; dentists have already been using them to repair smiles for decades. As such, the benefits of choosing dental implants over traditional dentures and bridges are well known. Plenty of dental experts and patients greatly prefer implants thanks to the advantages they offer that simply aren't present in other restorations. Below are some of the most important ways dental implants can change your life for the better.
Day-to-Day Benefits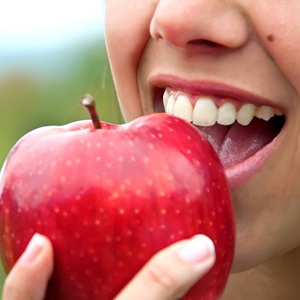 You'll be using your dental implants every day to speak, chew, and smile. As such, you'll be able to enjoy these particular benefits on a regular basis:
No Diet Restrictions: Traditional dentures make it difficult to enjoy certain foods, but dental implants have chewing strength and stability on par with your natural teeth. That means you can easily enjoy all of your favorite foods again.
Easy Maintenance: You don't need any specialized products to take care of dental implants. All you need to do is brush and floss like you normally would in order to protect your new smile from harmful oral bacteria.
Increased Confidence: Dental implants always stay in place, and they look just like your natural teeth. This makes it very easy to feel confident whenever you show off your new smile to people you're meeting for the first time.
Health Benefits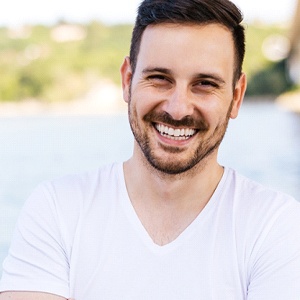 Of course, there's more to dental implants than just making your everyday life easier. They also offer several oral health benefits that traditional tooth replacements can't:
No Bone Loss: Dental implants are able to stimulate the jaw to keep the underlying bone from breaking down. This means you'll be able to maintain a healthy, functional jaw over the long term.
Better Nutrition: Being able to eat what you want means more options for planning nutritious meals that keep your body healthy. Denture wearers often have trouble maintaining good nutrition due to needing to avoid certain tough-to-chew foods.
Improved Hygiene: Dental implants are very easy to clean compared to other tooth replacements. As a result, it becomes much easier to protect your smile from gum disease and other oral health issues.
Long-Term Benefits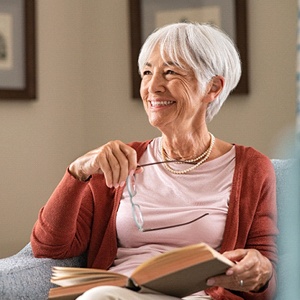 With dental implants, you'll be enjoying the benefits of your new smile for a very long time. As the years go by, you'll start to fully appreciate these advantages:
High Success Rate: Even after 20 years of remaining in the mouth, dental implants have a success rate of about 95%. You can count on them to last for the long term.
Youthful Appearance: With your implants helping you maintain a healthy jawbone, you can avoid the sunken, aged look that often occurs when teeth are missing.
Long Lifespan: Dentures and bridges will need to be replaced every 7 to 10 years or so. Implants, on the other hand, can last for decades or even the rest of your life without needing to be replaced.
Who Dental Implants Can Help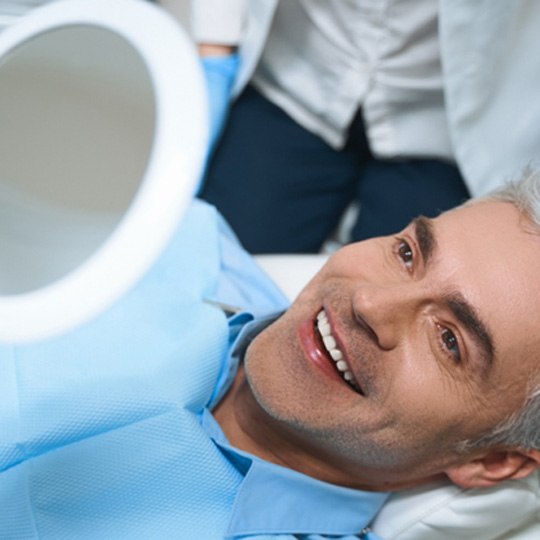 No matter how many teeth you're missing, we can develop a dental implant treatment plan to rebuild your smile. Once we've confirmed you're a good candidate for dental implants, plan out your procedure based on how many teeth you're missing.
Missing Single Tooth
To replace a single tooth, a dental implant will be inserted where the missing tooth used to be. Then, it will be topped with a beautiful, custom-made dental crown. Unlike a traditional bridge, a single-tooth dental implant doesn't require altering any of the surrounding teeth!
Missing Multiple Teeth
Replacing two or three missing teeth in a row calls for an implant bridge. Unlike a traditional bridge, this restoration is mounted on dental implants instead of your natural teeth. This makes it a healthier, more comfortable, and longer-lasting option!
Missing All Teeth
For patients who have lost all their teeth or who are looking for an alternative to their removable dentures, we offer implant dentures. Implant dentures are secured into place via four to six strategically placed dental implants, giving you the confident and stable smile you deserve!
Understanding the Cost of Dental Implants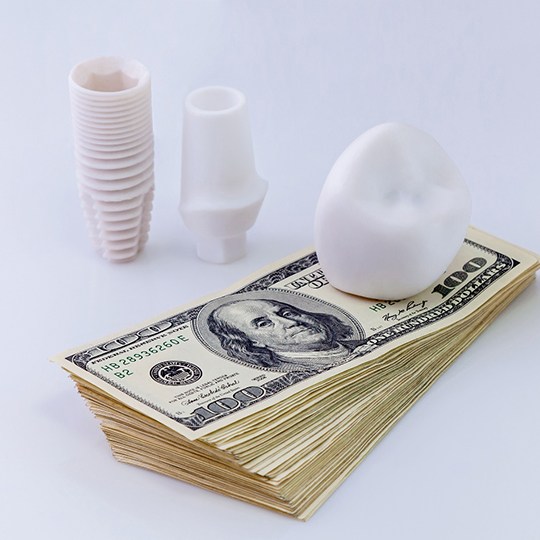 Even if you want dental implants, you might hesitate due to their expense. After all, these prosthetic teeth often have a sizable price upfront. In truth, though, the cost of dental implants in Dallas varies from patient to patient based on various factors. That being the case, you'll need to consult with Dr. Vasquez or Dr. Aldana before we can give you an exact estimate. Still, you can count on us at Soleil Dental to make the procedure affordable for your budget. To learn more, keep reading or call our office to book a consultation visit!
Preliminary Treatments & Dental Implant Surgery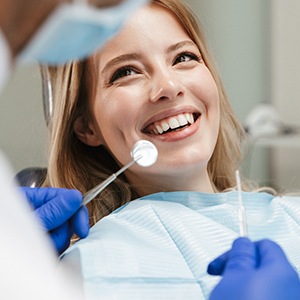 Depending on the situation, you may need preliminary treatment(s) before implant placement. (Things like gum disease therapy, tooth extractions, and bone grafting could ensure your new smile's long-term success.) If so, remember that these services will raise your procedure's overall cost. Fortunately, dental insurance will cover them in most cases.
Furthermore, the cost of the actual implant surgery will depend on its complexity — where the restorations are being placed, the kind of sedation you need, etc.
The Parts of Your Dental Implant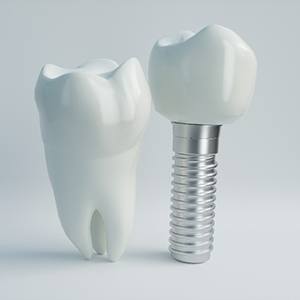 Certain aspects of the implants themselves will influence your treatment cost. Some of them include the following:
Number – Of course, one dental implant will cost less than getting four to six for an implant denture. However, said denture will be more cost-effective than replacing each tooth separately.
Material – Whether the base of your implants is made of zirconia or titanium will affect the overall cost.
Brand – Even your implant manufacturer impacts your treatment expense. As such, feel free to ask about your implant's brand at your initial consultation.
How Dental Implants Can Save You Money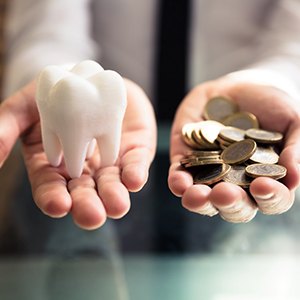 While you might be tempted to get other restorations, implants would save you more money in the long run. Their lifespan can range from 15 to over 30 years, so many patients don't need to replace them over time. As such, you'd only need to pay for a single treatment that could last you a lifetime!
On the other hand, dentures and bridges cost more overall despite their low upfront price. Since they usually need replacement every 5 to 10 years, they involve more frequent procedures. Furthermore, caring for them requires that you buy special cleaning solutions, adhesives, or pastes.
Does My Dental Insurance Cover Dental Implants?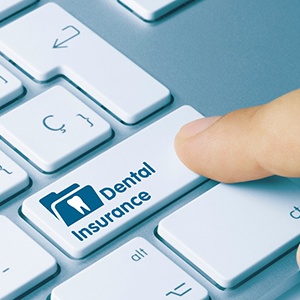 Dental insurance seldom covers dental implants, though there are some exceptions. For instance, your plan might offer coverage for a percentage of your restoration. Given that fact, our team will review your policy to ensure you maximize your benefits. We have years of experience in this field, so you can count on us!
Making Dental Implants Affordable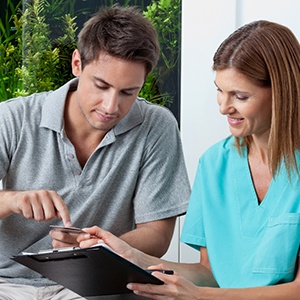 Even without insurance, there are ways to make dental implants affordable. In particular, Soleil Dental accepts options like:
In-House Dental Membership Plan – In exchange for a one-time fee, our office will give you 20-30% off a major dental treatment. That means you could get a big discount on implants!
Flexible Financing – Using the third-party service SunBit Financing, you can enroll in a monthly payment plan. That way, you can pay for your implants over a longer period instead of all at once.
Dental Implant FAQs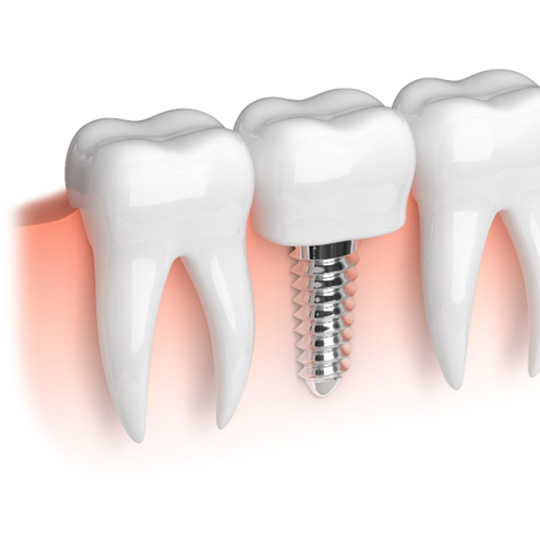 We hope the information on this page gives you a clear idea of what getting dental implants in Dallas will be like. Of course, if you still have questions, we're more than happy to help! The following FAQs cover many of the topics that our patients often ask about when getting dental implants. Check to see if the answers you're looking for are already listed here; if not, please reach out to our office so that one of our team members can assist you.
How Long Do Dental Implants Last?
Traditional dentures and bridges only last about 10 years before they need to be replaced. Dental implants, on the other hand, can stay in your mouth for well over 30 years and might even last a lifetime if they receive proper care. You don't need to do anything special to ensure that your implants last as long as possible; just care for them the same way you would your natural teeth. That means brushing and flossing twice a day at home while visiting the dentist every six months for a checkup and cleaning.
Bear in mind that certain habits can damage your implants, like chewing on ice, smoking, and tearing open packages with your mouth. You need to identify and drop these harmful habits as soon as you can to protect your newly repaired smile.
What Can Cause Dental Implants to Fail?
Dental implant failure is very rare, but it can happen. Peri-implantitis is one of the most common reasons for failure. This is a form of gum disease that specifically occurs around dental implant posts; it can weaken the tissues holding the implants in place, causing them to come loose.
Another factor that can cause you to lose your implants is failed osseointegration. If the posts don't fuse with the jawbone, they won't be able to stay in your mouth. Osseointegration might fail if you put too much pressure on the implant posts during the healing process.
Our team will go over the risk factors for implant failure with you during your initial consultation. We can also give you some recommendations for steps you can take to keep the chances of failure at a minimum, such as practicing good oral hygiene.
Will People Be Able to Tell That I Have Dental Implants?
Dental implants are custom designed to blend right in with the rest of your smile so that most people can't tell that you were ever missing a tooth. The restorations will match the size, shape, and shade of your natural teeth, and the implant posts will be completely hidden under your gums.
Is There Anything I Shouldn't Eat with Dental Implants?
Unlike dentures, which can make eating certain foods very difficult, dental implants don't put limits on your diet. You only need to stick to soft foods while your mouth is recovering after implant surgery. Once you receive your final restoration, you'll be able to eat anything you want. Be careful around hard or sticky foods; they could potentially damage your implants (as well as any remaining teeth).