Opus Skin Resurfacing—Dallas, TX
Have you noticed a few new wrinkles in the mirror lately? Want to slow down the hands of time without having to turn to surgery, mystery creams, or laser treatments that will make you feel like you've gotten a bad sunburn? With Opus, you can seemingly turn back the clock using a gentle and effective treatment that will have you ready to show off your gorgeous, natural-looking results almost immediately. It's a completely new approach when it comes to skin resurfacing, and now you can get it right here at Soleil Dental in Dallas. To learn a little more about how it works, keep reading! Or, call today to schedule a consultation.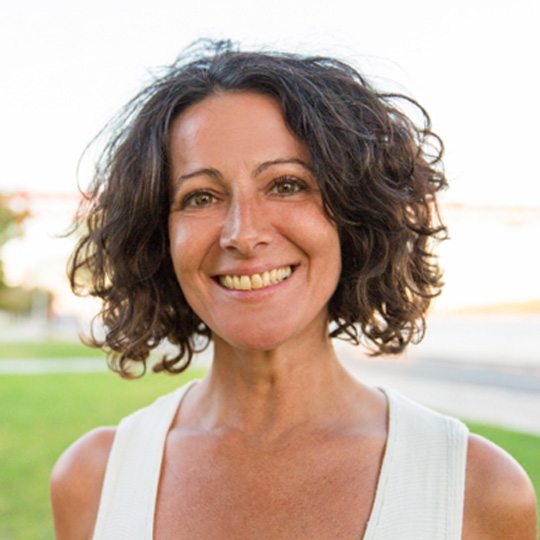 Why Choose Soleil Dental for Skin Resurfacing?
Able to Reduce Wrinkles, Scars, & Blemishes
Faster & Gentler Than Laser Treatments
Suited for All Skin Types
What is Opus Skin Resurfacing?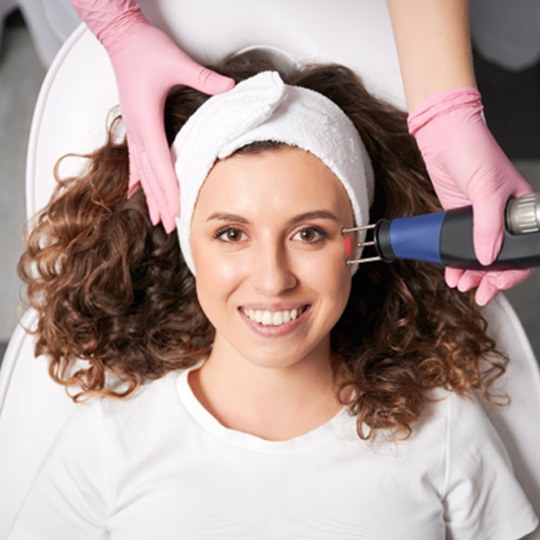 Traditional laser skin resurfacing slightly damages the top layer of the face, which forces it to heal and create newer, younger-looking skin. There are several drawbacks to this approach, namely that it doesn't feel very good!
But Opus uses a conservative, non-invasive method in which fractional radiofrequency (RF) waves are directed into the skin. This stimulates the production of collagen, the substance that makes skin look smooth and radiant. You have plenty of it in your teens and twenties, but it slowly diminishes over time. Opus works to reverse this. Rather than injuring your skin so it comes back better, Opus essentially gives it a boost from the inside that you'll barely feel during treatment.
How Does It Work?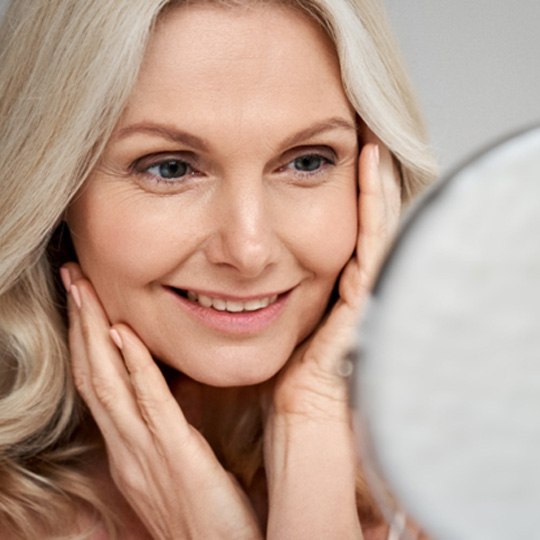 A typical Opus treatment takes about 20 minutes for the entire face. First, a topical anesthetic is applied to the skin, and once the patient is numb, a small handheld device is glided over everything from the forehead to the chin so each pore is exposed to the RF energy.
Afterward, a protective balm is used, which will minimize the small amount of swelling and redness that is expected (these typically resolve on their own after 24-48 hours). While one session can deliver a beautiful result, we recommend at least three sessions to get the maximum benefit.
How Can Opus Skin Resurfacing Help?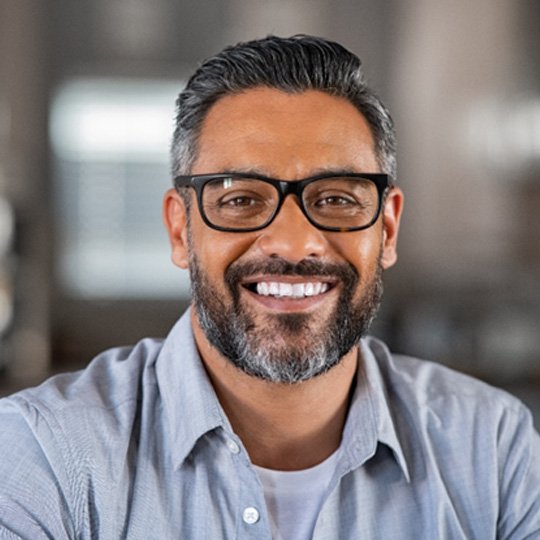 Our team can use Opus Skin Resurfacing to help patients who would like to:
Smooth out facial wrinkles and fine lines
Even out skin tone
Make facial skin appear more youthful and supple
Remove or reduce the appearance of acne scars
Tighten loose skin
What Are the Benefits of Opus Skin Resurfacing?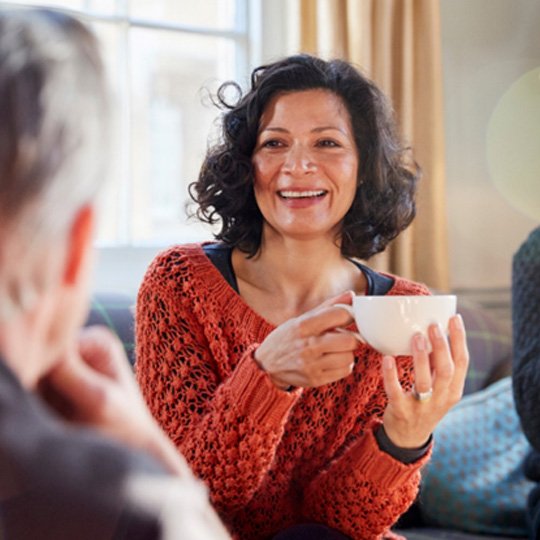 Opus Skin Resurfacing is quickly becoming the go-to method for professionals across multiple industries, and that's because it offers numerous advantages compared to other treatments:
Requires only a fraction of the downtime compared to lasers
The treatment feels very comfortable while it's being performed
Safe for all skin types
No risk of swelling, scarring, or infection
Results look natural and can be trusted to last for several months
Opus Skin Resurfacing FAQs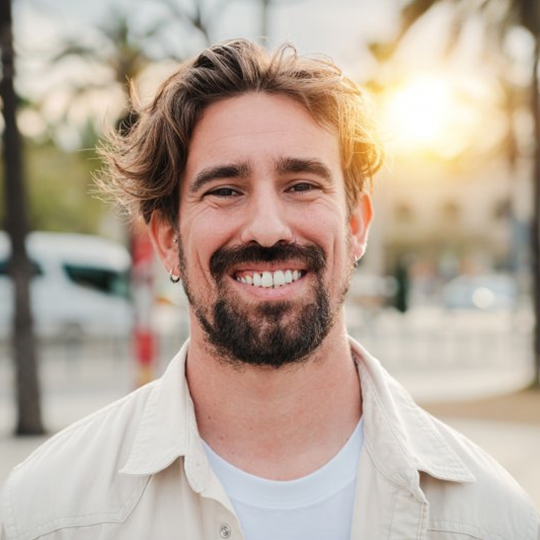 If you've been interested in turning back the clock on your facial appearance or smoothening out your skin, then Opus Skin Resurfacing may be the ideal solution for you. Depending on your specific needs and desired results, our team can create a treatment plan to beautify your looks in as little as 20 minutes! Still, it's normal to have concerns about the procedure before going forward with it. That's why we've listed and answered some of the most common questions we get about Opus Skin Resurfacing in Dallas. Keep reading to learn more or reach out to our office today to schedule your visit.
Are Opus Skin Resurfacing Treatments Painful?
Instead of using a laser for your skin resurfacing treatment, Opus utilizes fractional radiofrequency (RF) waves to make your skin appear smoother and healthier. Not only is this method less invasive and doesn't damage the surface of your skin, but your doctor will apply a topical anesthetic beforehand, that way you're completely pain-free throughout your appointment. Your team will typically wait about 20-30 minutes to allow the effects to kick in before continuing with the process. In the end, you'll likely only feel some warmth during the treatment before we send you on your way to enjoy the results.
What Is Opus Skin Resurfacing Recovery Like?
Once you've undergone the procedure, you might expect some general redness and/or swelling for the following two to three days. After this time, you can continue with your normal daily activities, and you might cover any remaining redness with makeup if need be. However, you might want to be careful being out in the sun, as your skin will be particularly sensitive to UV rays. To avoid any complications or discomfort, avoid direct sunlight and wear sufficient sunscreen for the next couple of weeks until your skin has properly recovered.
How Is Opus Different from Other Skin Resurfacing Treatments?
The main difference between Opus and other skin resurfacing procedures, such as plasma fibroblasting treatments, is the combination of plasma and RF energy. By using fractional radiofrequency (RF) waves, your doctor can reach deeper into your skin to heat the underlying layers of your dermis, that way they can boost the production of collagen to tighten the surface. Simultaneously, the plasma addresses more exterior layers of the skin, significantly reducing any damage and downtime. Combining RF energy and plasma makes Opus incredibly versatile, reliable, and safe for even delicate areas like your eyelids!
Can I Combine Opus Skin Resurfacing with Other Procedures?
Due to its versatile qualities, Opus Skin Resurfacing can often be a viable complement to other procedures with anti-aging purposes, including hair restorations with PRP/PRF and body contouring. Some areas of the body may require more than just Opus to help treat the skin and make you feel younger. If so, you'll want to consult your doctor so they can examine you and determine the best methods for achieving your desired results.