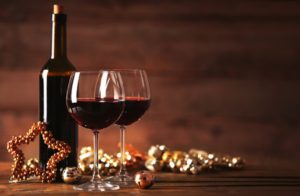 It's easy to be enthusiastic about the holidays, especially if you're a fan of all the awesome foods, drinks, and spirits that are enjoyed this time of year. However, among all of these exciting and festive items is red wine, and as you may already know, it's somewhat notorious for causing stained teeth! But that doesn't mean you have to avoid it entirely during the holidays to protect your smile. Here are some tips from your dentist in Dallas to help you protect your pearly whites from the staining caused by red wine.
#1. Brush Before Drinking (But Not Immediately After Drinking)
You should brush (and floss, if possible) your teeth before drinking, but not immediately after finishing your drink. Since plaque can make it look like your teeth are stained, consider brushing about half an hour before drinking. By removing new plaque biofilm and food residue from your teeth before an indulgent meal with red wine, you can minimize your chances of staining. Cleaning your teeth on this type of schedule also cuts down your tooth decay and gum disease risk!
#2. Drink Water with Your Wine
Taking a swig of water will help prevent red wine particles from lingering on your pearly whites; meaning this is generally a good habit when consuming anything that can stain your teeth or dry out your mouth, such as alcohol.
#3. Eat While You Drink
It's never a bad idea to munch on a snack or enjoy a meal while you drink; in fact, many foods can actually act as a barrier to the acid in red wine, since they stimulate your mouth's natural flow of saliva. Consider opting for fibrous foods that are also low in sugar, such as broccoli, celery, or hard cheeses, all of which can stimulate saliva flow and naturally scrub away drink stains!
#4. Consider a Whitening Toothpaste
Whitening toothpaste works to remove surface stains on your teeth that naturally occur, in addition to preventing new stains from forming! It's never a bad idea to switch to a handy whitening toothpaste if you're aiming to keep your smile as bright as possible throughout the holiday season.
#5. Seek Regular Dental Care
Of course, visiting your dentist in Dallas for regular preventive care is one of the best ways to reduce and prevent staining. These visits can help you to easily maintain a bright smile and also allow your dentist to assist with any present oral health issues. Teeth whitening treatments are also available that will enhance the glow of your smile by several shades.
You can still enjoy red wine this holiday season and hold on to your bright smile by following these tips!
About the Practice
The team at Soleil Dental has proudly served patients and families in the Dallas, TX area for several years under the leadership of Dr. Diana Vazquez and Dr. Jose Aldana. Their practice is thrilled to offer a wide range of preventive, cosmetic, and restorative services. If you have any questions about the article or need to schedule a visit, feel free to contact the practice online or by phone for assistance: (214) 304-2112.